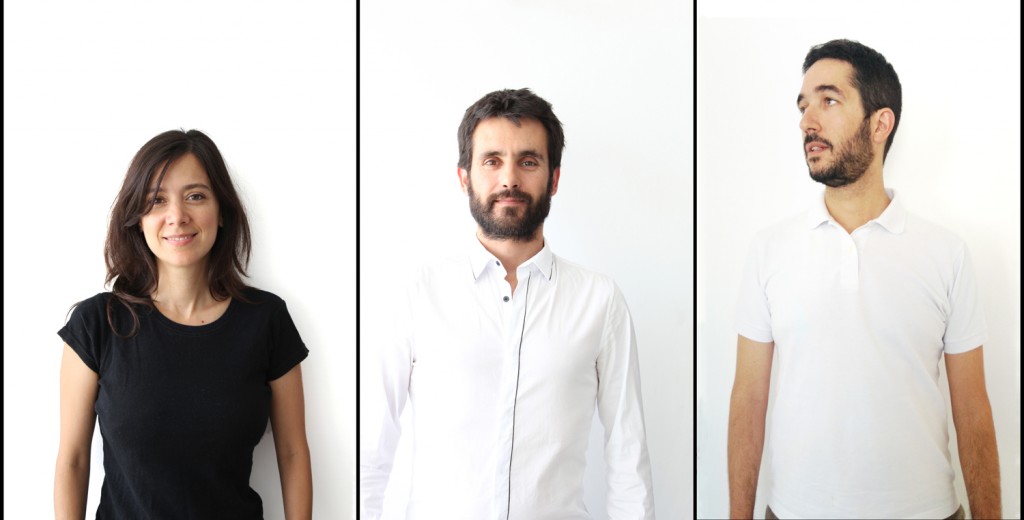 Baum_ Architecture_profile
Baum is an international architecture office based in Sevilla, Spain, that focuses on production and research in architecture and city-planning. (www.baumarquitectura.com)
Baum partners, Marta Barrera, Miguel Gentil and Javier Caro, studied architecture in the University of Seville (Spain), and completed their studies in TU Vienna (Austria) and the Techincal University of Barcelona (Spain). They finished as well complementary studies in Bauhaus Weimar (Germany), Freie Universität Berlin (Germany), Freedom University Beijing (China) and Tongji University (Shanghai). Javier Caro and Miguel Gentil presented in 2009 their Master Thesis on Sustainable Prefabrication Processes and Sustainable Public Spaces, respectively, obtaining the maximum qualification. Marta obtained her Cum Laude Master degree on Heritage Management and Conservation with a study about Beijing Historic Center. Javier Caro has directed two international research projects, funded by European Union: Efficacia 2012 and Tigris 2013-2014, devoted to implement intelligent green prefab devices.
Baum has given master lectures about its works and researches in the School of Architecture of Harbin Institute of Technology, University of Seville (Spain), University of Granada (Spain), Confucius Institute Granada (Spain), Cervantes Library Shanghai (China), Ss. Cyril and Methodius University Skopje (Macedonia), Tongji University (China) and Chongqing University (China); and has co-organized and taught in several International Workshops as invited professors in Skopje, Seville and Shanghai. Baum has also participated in an experts symposium in Central St. Martins London to talk about Chinese contemporary cities. Baum has published several articles in architecture magazines such as T+A magazine (China), Urbanism and Architecture (China) or On Diseño. Currently Baum is the correspondent of Urbanism and Architecture magazine in Spain and they publish a long article on a monthly basis.
Research
Baum researches focus on sustainable public spaces and city-planning, specially on new green cities developments. They curated the exhibition The Chinese Contemporary City for the Architects Association of Cádiz (2009) and the exhibition BIG BANG CHINA!. City and Architecture in the Contemporary China for the Confucius Institute Granada (2010) and the University of Seville (2012). At Shanghai Cervantes Library they curated the Symposium "Heritage in Progress" in 2011, where they lectured as well.
They have shot two short-films documentaries about China (2009 and 2010). The Volume 1, was awarded with the RTVA Award for Andalusian Audiovisual Creation 2010.
In 2008 Baum wrote the Report on Public Architecture, published by the Contemporary Architecture Foundation and commissioned the related lectures series. They are also coauthors of the recently launched book: Efficacia. Energy efficiency in social housing. Nowadays they are preparing a book of interviews on Chinese Urban Explosion. They have contributed with chapters to many books: "Unpleasant Design (2013)", "Operación Clavel" published by the City Council House, "Common Actions. Urban views and actions from art and architecture". Published by International University Menéndez Pelayo, etc.
National practice
In their professional practice, they have developed, among others, the rehabilitation project of a hundred years old school in Seville (First Prize and already built), an Old People's Home in Baena, Córdoba, Spain (First Prize and built), and, in collaboration with Francisco Gómez, the Rehabilitation of the Capitular Hall in Orive's Orchard, Córdoba (First Prize and already built, Best Building in Córdoba 2010) and the Guadaira Riverside Park (First Prize, built and recently twice shortlisted as finalist for the Mediterranean Landscape Prize, where it was awarded with a Special Mention (equivalent to a second prize in the category of accomplished works).
Baum has also developed several projects of interior design and rehabilitation such as Accademia del Piacere, (Seville, 2014), Renovation of a two-storey apartment in Seville, Dental Clinic in Pozoblanco (Spain, 2013), Chinese Cultural Center in Sevilla (Spain, 2013) or Detached House Renovation in Sevilla (Spain, 2012).
International
Since its creation in 2006, Baum has developed an International practice, collaborating in multiple research and architecture projects in different countries.
In 2013 Baum participated as exhibitors and lecturers in the 2013 Bi-City Biennale of Urbanism/Architecture in Shenzhen (China), presenting an experimental installation/research about the ghettos in the contemporary city.
In 2012 Baum, in collaboration with a local partner, obtained the 1st prize in the competition of the urban design of a new city of 600 Ha and 400.000 inhabitants in Dushan, China. Baum has already completed the Master Plan, which has been widely published in the media in Spain, China, Italy or Mexico. The project is nowadays under construction.
In China Baum has also designed an installation for the permanent collection of the Contemporary Architecture Museum in Shanghai (2011).
In the social design field, Baum developed a line of Urban Furniture for the Integration of Immigrants, which has been awarded with the 1st prize in the international competition Unpleasant Design (2012), organized by the artists and architects Gordan Savicic and Selena Savic. The awarded proposals were exhibited in The Hague (Netherlands) in 2012. This project has also been selected for the XII Spanish Biennale of Urbanism and Architecture (2013).
Baum has also obtained several other prizes in International competitions such as the 3rd position and special mention in the Renovation of a Primary School in Konstanz (Germany) and the 3rd position and special mention in the Urban and Landscape Design of Juana Laínez Park in Tegucigalpa (Honduras).